The 57-year-old from Yamagata has written countless manga, all while pushing the boundaries of shounen and its settings.
He remains the king of the shounen, but his works also dabble in other genres such as occult fiction, comedy, romance, and more.
People nowadays may recognize him as the author of Hunter x Hunter but there's more to the man than just Hunter x Hunter.
After three decades of publishing, Togashi's stories have woven a tapestry of transformation both in and outside the industry, taking us on a journey of meaningful adventure, leaving an awesome mark on everyone lucky enough to experience them.
For many, they're parts of growing up, and buying limited issues during the pre-Animax era at a young age often felt like an act of daring and defiance. Fans nowadays may not get it but it was a huge deal back then.
And for me as a fan then and even now, I always loved his ability to create memorable characters who were at once new and very familiar. He is a unique writer who knows how to create engaging characters and how to invent compelling plots that just flow with the story.
I remember reading an interview, in a conversation with Shonen Jump+'s Sui Ishida, Togashi said:
"Manga is more interesting when you can't control the characters. I had a rough idea of the story, but when I actually drew the characters, they would say things that were completely different from the storyline. There is no choice but to throw away the story that was in it."
Furthermore, if you read Yusuke Murata's "Hetappi Manga Kenkyujo R", he is even nicknamed there as "Nemu no Shinri ni mottomo chikai otoko" (something like: The Guy With the Closest Grasp of Truth Behind a Name). So that's Togashi Sensei for you. When it comes to reading stories with amazing characters in them, you can just blindly pick up any Togashi manga and there you have it-your manga of the day!
Anyway enough about the stories in the intro, it's about time we get into his works which is what you came here for! So without further ado let's start the countdown with the luckiest number of all.
5. Ookami Nante Kowakunai!! (I'm Not Afraid of the Wolf!!)
Unlike other titles on the list, this manga is an omnibus series of six one-shot short stories from his early years, including his debut work "Tonda Birthday Present".
I'm Not Afraid of the Wolf!
Occult Detective Group – Part 1.
Occult Detective Group – Part 2.
Horror Angel.
Tonda Birthday Present.
Ookami Nante Kowakunai!!
Each story almost deals with different scenarios, characters, and situations in mind. Some of them are just straight-up fun to read, and some of them you force your way in and come to like it.
All in all, when you just get bored with all the recommended seinen classics and popular shounen titles and you need a little break for a while, it's exactly the time you should be reading it.
There's nothing extreme or too many plotlines that will hurt your brain but there's definitely a bit of satisfaction in every chapter that will just put a smile on your face.
In addition to that, it progresses at a light tempo with cute illustrations. So if you want to immerse yourself in Yoshihiro Togashi's work, I recommend starting from here.
4. Wicked Cupid (てんで性悪キューピッド)
Wicked Cupid is just as engrossing and amazing of a manga as you'd expect from Togashi. When talking about his manga style there's one thing that just strikes me the most is his ability to convey tone through his art.
And you can feel this through and through with Ten de Shouwaru Cupid from start to finish in a way that you can say it's a comedic story with dramatic honesty.
It can be said it's a work full of men's dreams on the sex appeal route. It's short, it's fun. It got all the elements Togashi is good at the groundbreaking level. It almost feels like you watching Togashi becoming Togashi in 1988.
So if you like chill Lofi comedy drama along with a bit of spicy touch of fantasy romance, this is the manga you should be reading next.
Synopsis: Koinobori yakuza family heir, Ryuji, is born with a pure soul who longs for fairies and has no interest in lewd things, unlike his lascivious family line! He rebelled against his abusive family and repeatedly tried to run away from home, but on the 17th night, he met a naked demon. The next day, for some reason, he ends up living with her, the naughty devil demon herself!
3. Level E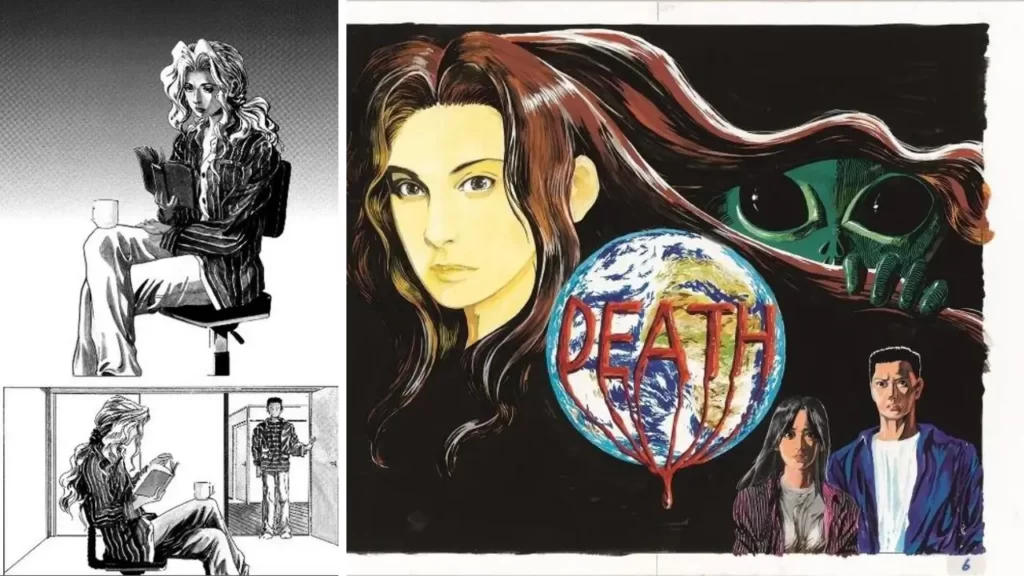 Set in Yamagata Prefecture, this sci-fi manga with gag comedy and heavy occult fiction elements such as paranormal phenomena is an omnibus story centering on the outrageous pranks of the first prince of Planet Dogura who came to Earth to kill time and had the best brain and the worst personality!
It has been serialized in Shueisha's Weekly Shonen Jump from 1995 to 1997, with its chapters collected in 3 tankobon volumes.
In 2011, the manga also received an anime adaptation by Studio Pierrot (Naruto, Bleach) and David Production (JoJo's Bizarre Adventure) consisting of 13 episodes.
Not gonna lie, I love this manga but it's hard to get into. Even though it's short and has all these lovable characters and setups, sometimes you get mixed up in between the story and can't find the energy to get back into it. I mean, it happened to me but then I picked it up, gave it a go and it was good.
Maybe more than good! We got to see an unusual and more realistic side of Togashi full of his own comedy and humor blending in with simple art on every page.
Considering Togashi's unique endeavor to illustrate the entire manga without using an assistant, along with the unusual serialization approach in Weekly Shonen Jump and revealing interviews, it makes sense if you say this work is arguably his most personal.
Did that sound complex?! Ok, let's think of it this way, there's something common to all of his works and it is his own brilliant sense and entertainment that entertains the reader.
And Level E got it too, tied by a thread of his ingenious comedic creativity and engaging storytelling. The worldview will probably look a little different than his other works, but it's worth a shot.
2. 'YuYu Hakusho' and 'Yoshirin de Pon!'
Doesn't matter how many anime with tournament arcs exists, Dark Tournament Arc will always going to be one of the if not the best tournament arc in anime history.
Yu Yu Hakusho is one of those ultimate shounen classics that just stays with you forever. Furthermore, if you are one of those 90s people who watched it being aired every week then it just holds more than a special place for you.
Cool drips, bromance, fantasy, and alpha villains with romance, friendships, and your favorite tournament arc- Yu Yu Hakusho got everything that you want in a good shounen series. So much so in a way, it almost became the footprint for almost all shounen that came after it.
In 93, it won the Shogakukan Manga Award in the Shounen category, and the Pierrot anime adaptation was voted the best anime of the year in 1994 and 1995 consecutively at Animage Anime Grand Prix.
Synopsis: The main character, Yusuke Urameshi, the tough teen villainous delinquent, who died in a traffic accident, is brought back to life after completing the trials given by Enma the Great of the spirit world. After that, Yusuke goes on journeys solving difficult cases as a spirit world detective.
Now for those who are wondering what's 'Yoshirin de Pon!' and why it was added as number two with Yu Yu Hakusho?!
Well, Yoshirin De Pon is not your standalone new manga. Instead, it's a one-shot containing some random drawings, trivia, cast stories, and interviews from Togashi & Yu Yu Hakusho. It doesn't have much content but I will recommend it for the essays alone.
It just gives you an amazing conclusion from Togashi and his point of view about the series and everything else. So for those of you who started reading or watching Yu Yu Hakusho recently, or already watched it a long time ago, I will say just give it a go.
It's not long. It won't take much of your time but if you are a fan, it's worth it. Fun fact, Togashi gave this one-shot doujin for free at the 1994 Summer Comiket.
1. Hunter × Hunter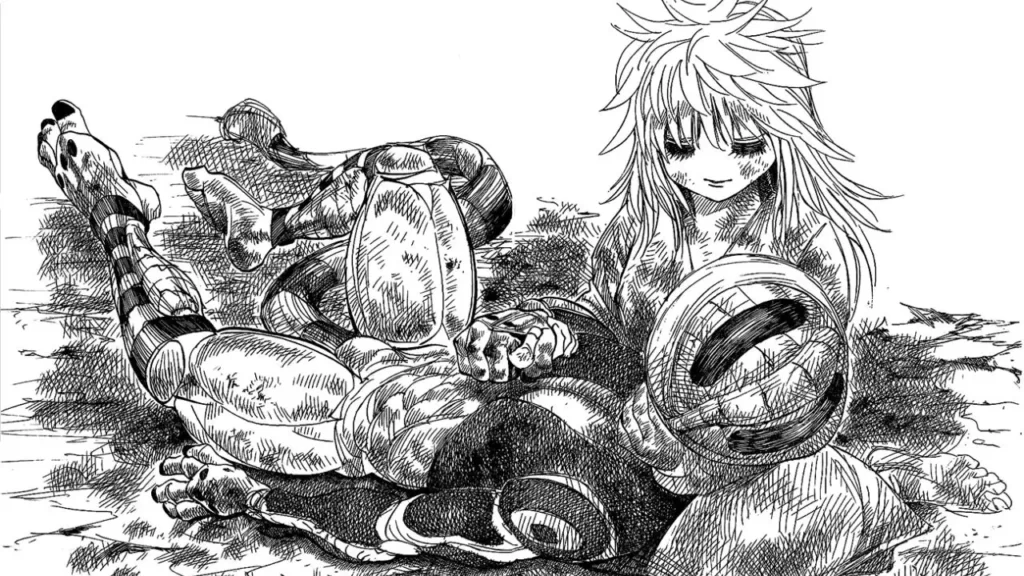 To be honest, it took me a while to decide whether it's Yu Yu Hakusho or Hunter x Hunter- which I'm gonna put at the 1 position. But, following several days of revisiting both series, I finally decided to go with Hunter x Hunter.
This is literally the magnum opus of Togashi in terms of writing and reception. Although you can argue that art is a bit simpler than some of his previous works, intricate narrative, and clever character setup at every place make up for it by a good margin.
It's a pity that it tends to be on a long hiatus, but I always find myself irresistibly drawn into its narrative. It's a captivating pure adventure drama, skillfully navigating the path of reunion.
At first, you can enjoy it purely as an adventure manga, but gradually Togashi's unique worldview, unburdened by conventional notions of right and wrong, takes center stage.
While it does not shy away from depicting the harsh reality such as the weak being mercilessly murdered or the guy bashing his father's head with a sledgehammer, the story unfolds in such a way that it's impossible to tear yourself away.
If you want to have the true Shounen manga experience, try HUNTER x HUNTER.
Synopsis: Gon's journey has begun to become a legendary hunter like his father and to meet him. Together with Leorio, Kurapika, and Killua, who also take exams to become hunters, they break through one difficulty after another!!
Honorable Mentions
Now that the BEST 5 list is over, let's shine a spotlight on a handful of honorable mentions as well, each boasting unique narratives and a feel of Togashi's charm to them that, while deserving of recognition, missed securing a spot on the list.
The genesis of this One-Shot traces back to a captivating rumor that initially whispered its way into existence when the one-shot was revealed as an extra in the fourth volume of Ten de Showaru Cupid. The rumor was eventually confirmed by none other than Togashi himself during an interview.
Interestingly enough, this manga was the final contender for the 20th H☆S Award in 1986. Spanning a concise yet impactful 15 pages, it managed to give Togashi his first key to his way to the professional world and won him a rewarding 26,000 yen.
Not only the winner of the 34th Tezuka Award in 1987 but also a sports manga that revolves around Baseball- a captivating concoction that showcases Togashi's versatile storytelling prowess.
Similar to Sensei was Toshishita, this manga as well found its way among the readers through Wicked Cupid (1990) and received an honorable mention at the 24th H☆S Award back in 1987, captivating readers across just 35 enthralling pages.
The story revolves around a girl from the Jura tribe (her design has a lot of similarities with Kurama from Yu Yu Hakusho that sometimes it's hard to separate the two with one look) who can communicate with and wield the power of plants.
Should I call it manga?! Ok, let's call it manga (more like a picture book though). But it's not your usual jump manga thing you are used to these days especially not what you expect from the shounen GOAT.
Translated as "Big Boonuu and Little Boonuu", it is a one-shot children's story written collaboratively by Togashi and her wife Naoko Takeuchi, creator of Sailor Moon.
It is the only full-color work that they have ever created. At first, the manga was written for their children, but eventually, they decided to publish it for everyone.
I probably wouldn't have suggested this one if it weren't for Togashi. I won't emphasize much on this one. But you can try it out if you are interested in Togashi's early works or all the one-shots he has written over the years.
And there you go! Behold our meticulously crafted list of the 'Best Yoshihiro Togashi Manga' to dive into for the thrilling year of 2024. What do you think of the list? Did you like it? Or perhaps you've got some wild, mind-bending manga titles up your sleeve that deserve a shoutout? Let us know in the comment below.